Three Reasons Why There is No 100% Profitable Strategy in Forex Trading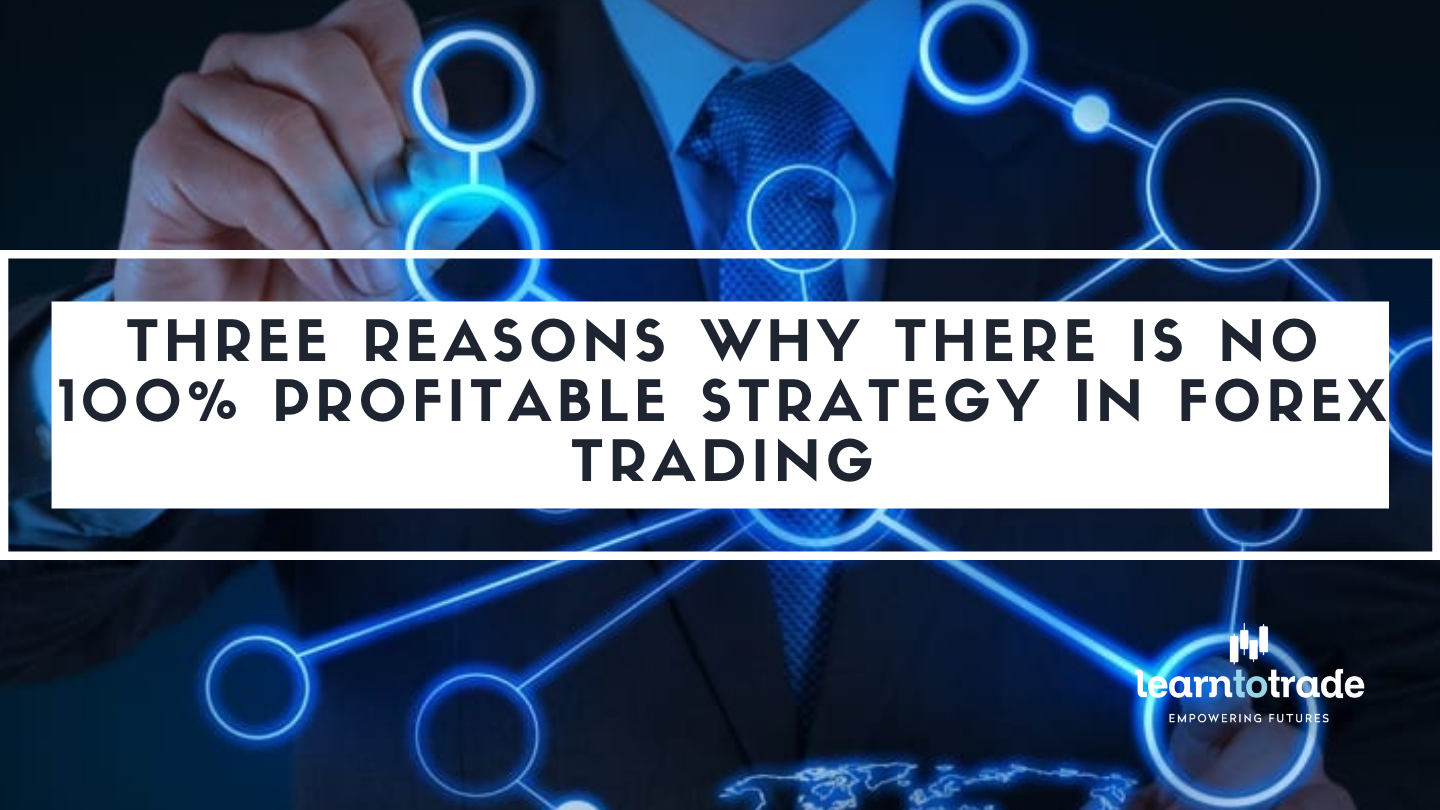 If you will ask traders who spent a considerable amount of their time to forex trading, they will tell you that there is no strategy that works 100% all the time. No matter what indicator, method or strategy you use, you will still incur losses due to the volatility and uncertainty of the market. That is why risk management is very important before placing your trades.
Here are three reasons why there is no 100% profitable strategy in forex trading:
Market uncertainties are everywhere
One of the advantages of trading forex is that you there are thousands of factors that will move the market and we can all see these on the internet as news analysis, economic indicators and such.
Unfortunately, each trader has different sentiments and this makes it difficult for most traders to predict future price action.
So, learning the market sentiment is very important and you should gauge what the market will do on a certain piece of information that will be released every now and then.
Humans move the market
Just like what we said on the first reason, the market moves depending on the sentiment of the traders and the market. When a piece of news is released some traders will interpret it the same way and some will interpret it differently.
For example, there is a positive news in USA which you thought that would boost the sentiment of traders for the dollar. You bought the dollar knowing that this piece of information will have a positive impact on the dollar but after a few hours, the dollar was on a sell off just because most of the traders in the market interpreted this piece of information differently and most of their positions are bearish which further pushed the price of the dollar lower.
You should always put into discretion what the market will do, and always make your research on the currency pair that you are trading and not just focus on the currency that you are holding.
There is no strategy that works in all conditions
Those who have traded for a long time know this. To be a successful trader, you should learn not just to read the charts and a piece of news analysis, but you should also learn how to read between the lines.
Believe it or not, there are patterns on how to benefit from all of these and it depends on the trader on how he/she utilizes the piece of information that they gathered and how they will incorporate it with their strategies.
For example, you are trading EUR/USD and you see that there is an upcoming news on U.S.A about labor data. Before shorting EUR/USD, you should first feel what the market will do after the release of this data. You should have read the labor data and see for yourself if it will affect the USD in a positive or negative sentiment. Then after making your assessment, try to asses the market and make your technical analysis to plot out your entry and exit points.
This is just a brief example. What I am trying to say here is, to be a profitable forex trader, you should be flexible in any market conditions. If you are uncertain, it's best to stay in the sidelines. Sometimes, staying in the sidelines is the best strategy you could have in the current market.
Besides it's better to stay put than to lose some of your hard-earned money, right?
I am not saying that forex trading is not profitable. However, being a successful trader requires a lot of education which you can acquire for free all around the internet. You should also learn about proper risk management and find a bunch of strategies that work best with your trading personality and trading psychology.
It is also a good practice to try out everything you've learned in a demo account. Here you will learn more which will work and which doesn't.
Don't forget to follow and subscribe for more updates about market trends, analysis, forex news, strategies and more!
Do you want to learn more about forex trading? Sign up now on our FREE forex webinar and reserve your FREE seats while it still lasts!
Risk Disclaimer:
Information on this page is solely for educational purposes only and is not in any way a recommendation to buy or sell certain assets. You should do your thorough research before investing in any type of asset. Learn to trade does not fully guarantee that this information is free from errors or misstatements. It also does not ensure that the information is completely timely. Investing in the Foreign Exchange Market involves a great deal of risk, resulting in the loss of a portion or your full investment. All risks, losses, and costs associated with investing, including total loss of principal and emotional distress, are your responsibility.