5 Factors to Consider Before Opening a Live Account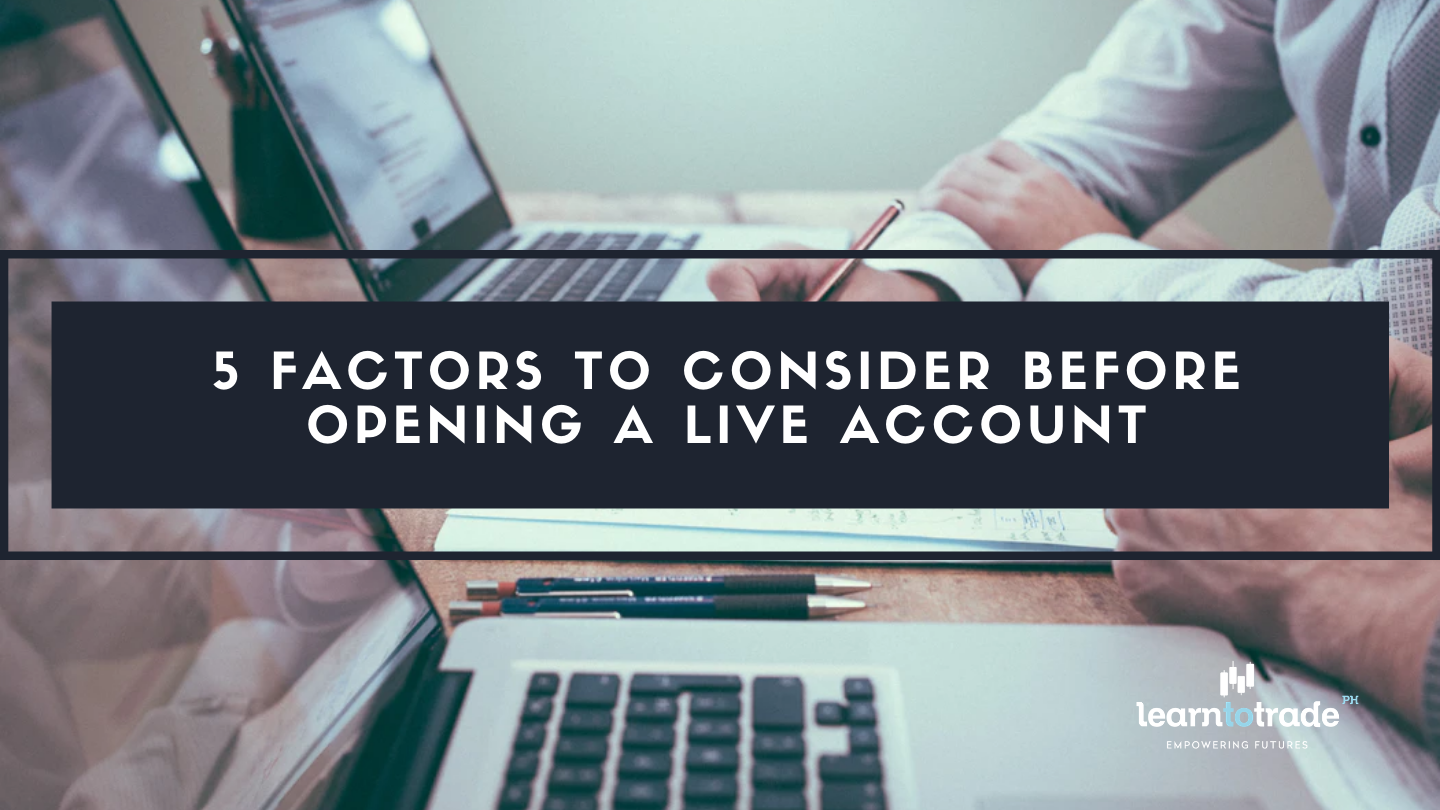 There comes a point where you feel a bit confident in trading and you've been thinking to open a live account. After months of studying the forex basics, strategies and trading with a demo account, you feel that you have learned enough discipline and ready to trade with real money.
The question is, ARE YOU REALLY READY FOR IT?
Here we will talk about 5 factors that may help you decide if you are truly ready to embark in your forex journey.
Having consistent profits.
Having a consistent profit doesn't mean winning all the time. They are both different in a way that most new traders think. There isn't a single trader in the world that hasn't lost a single trade in their entire trading career. Even professional and renown traders around the globe experience losses. This is due to the market's ever-changing sentiment. Always remember that losing is a part of the game.
Having consistent profits is closely tied up to having a set of disciplines, proper risk-management and strategies that works in different market conditions. If you've lost a trade or two in a week, don't beat yourself up and lose your confidence in trading, rather take it as a challenge to learn more about the market and look for higher-probability set ups with a decent reward-to-risk ratios and find a suitable strategy that will help you outweigh your gains to your losses.
Keeping a trading journal each month is a must especially when you are still trading in a demo account. This is important so you can track your profitability each month and you can track your progress along the way before opening a live account.
Have a risk management rule that works for you
Having a clear risk-management rule that you stick with in all your trades is extremely important. Most traders say that 50% of your success in trading is determined in your ability to find good setups and strategies while the other 50% rests on proper risk management.
Again, having a well-though risk management is highly important if you don't want your whole account to blow off.
There are times when making a decision in the market is confusing enough due to the market conditions. Once you get confused, your mind gets clouded and you start doubting your analysis and trading skills. During these times, your mental fortitude and discipline is being tested and your risk-management plan may be the only thing that could protect your account.
If you have not prepared any risk-management plans, you can start by including percentage risks in a ratio of 1:1 or lower depending on the size of your account and in the maximum loss that you can tolerate.
Don't break your discipline if you are experiencing a losing trade.
How do you take losing trades? Does it upset you? Does it make you want to break your own rules and try to earn back the money you lost as fast as you can? Do you panic if a trade is going against you? If you experience sentiments like this, you should think twice before investing your money in the forex market.
We all know that keeping your cool is not easy especially when you see you're floating losses. What you have to do is have a trading plan and stick to it.
If you have a trading plan to focus on, this will minimize your risk of taking mindless trades. By sticking to this plan, you will be able to think logically instead of emotionally before hitting that buy/sell button.
Accept losses and move on.
As a beginner trader, you will experience losses every now and then. It is important that you don't take it too hard on yourself no matter how small or big your losses are. This will take a huge toll on your psychological and emotional state.
In the event that this happens, you should learn to keep your cool and identify the factors that lead to your losses. You will realize that you will learn so much more in your loss than in your gains and the new found information that you have learned will most likely benefit you in your future trades.
Being level-headed is usually achieved by the discipline that you instill in yourself by following your set trading plan and risk management. You will notice profitable results especially if you have done this with consistent practice and experience.
Choose the right broker and trading platform that suits your needs.
Aside from learning forex strategies, disciplines and having a trading plan, you should also know how to choose a reputable broker and which trading platform to use. Before you actually risk your money in the forex market, you should know how to use the platform and see if you are comfortable enough in executing your trades in that trading platform.
Aside from learning the buttons that you should press or knowing where to find indicators, tools and settings, you should also be familiar with slippage and your broker's usual pip spreads so that you'd be able to take these into account when setting orders.
This is one of the reasons why you should start and practice demo trading with the broker and platform that you plan to open an account with.
Last but not the least, you should also consider the ease of contact with your broker just in case something goes wrong with your account.
These are just some of the things that you should consider before opening a live account. Make sure to put all of these in your list and if you have any more questions to ask yourself, it would be better to do more research and ask other experienced traders to help you assess your decisions.
Remember to treat forex trading as a business and not gambler's playground. Besides having the capital, knowledge and strategies, you should also consider in improving your psychological and emotional reactions to the fluctuation of the markets.
Don't forget to follow and subscribe for more updates about market trends, analysis, forex news, strategies and more!
Do you want to learn more about forex trading? Sign up now on our FREE forex webinar and reserve your FREE seats while it still lasts!
Risk Disclaimer:
Information on this page are solely for educational purposes only and is not in any way a recommendation to buy or sell certain assets. You should do your own thorough research before investing in any type of asset. Learn to Trade does not fully guarantee that this information is free from errors or misstatements. It also does not guarantee that the information is completely timely. Investing in the Foreign Exchange Market involves a great deal of risk which may result in the loss of a portion or your full investment. All risks, losses and costs associated with investing, including total loss of principal and emotional distress, are your responsibility