4 Questions to Ask Yourself Before Quitting Your Job and Being a Full-time Trader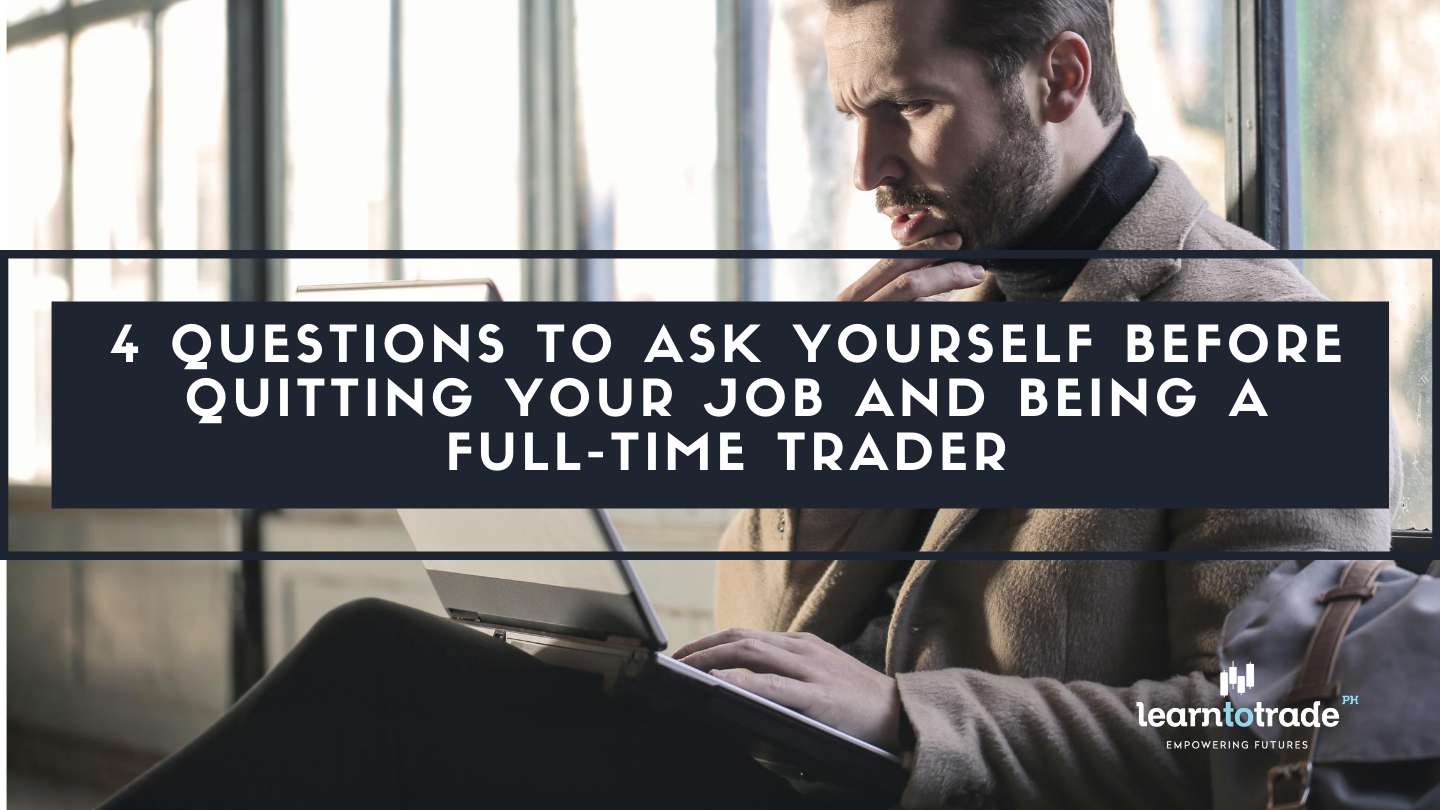 The thought of being a full- time forex trader is very exciting. You get to ditch your working suit, no more blaring alarms at 5 o'clock in the morning, you get to fire your own boss and ultimately make profits in just your pajamas.
We all know that all of this sounds to good to be true. In reality, forex trading is a serious business. Underneath all of the success in trading that you see from professional traders, it is also backed up with the proper knowledge, understanding risk management and self-discipline.
Before you consider being a full-time trader, you have to ask these questions to yourself and assess if you are ready for being one.
Are you successful in your demo trades?
Lots of trading platforms nowadays are giving away demo accounts for new traders and professionals to get the feel of the platform that they are using. New traders can take advantage of this while on the process of learning forex and trying out new trading strategies and a few indicators and tools.
If you are not gaining in your demo trades, chances are you won't be able to make it when you open a live account. You will end up blowing your entire account and your whole confidence in trading will go down in a smoke.
Self-discipline and practice in trading is key to be a successful trader. Also, you have to keep a trading journal so you would now how much your trading skills have improved.
So, before you go into full-time trading, make sure you had a lot of practice and assess yourself with the gains and risk management that you employ in your demo trades.
How do you handle stress?
Forex trading is not a walk in the park. Nobody knows what the market will do today and the following day. You may make a lot today and lose it all tomorrow. The uncertainty in the forex market might affect the trader's psychology especially if you don't keep your risk in a minimum.
The pressure of being a full-time trader might also affect you and may lead you to make bad decisions in your trades.
Controlling your emotions and accepting losses is part of being a full-time trader. Learn form your mistakes and keep on learning.
Do you have the enough capital to fund your account?
Having enough capital for your funds is critical in being a full-time trader. Although there are brokers where you can fund an account with a relatively small capital from around $200 – $500, we do not recommend you to do this if you are thinking of being a full-time trader.
The reason why we don't recommend you to do this is because a small account size will not be enough to support you in your daily expenses, mortgage and bills. Also, if you still plan to do this, the chances of you doubling your account will take a lot of time.
More importantly, you should have enough funds ready if things go wrong especially in cases of losing streaks. We recommend you fund your account in reasonable size that you think would be able to support you.
When you are undercapitalized, you might have to re-consider your plans on being a full-time trader. Always remember to only fund your account with money that you can burn. By that, we mean money that won't affect you mentally and emotionally if things go sour.
What are your reasons for being a full-time trader?
We all have reasons why we want to be a full-time trader. Are your reasons clear enough for you take the leap of faith and risk your steady paycheck?
Being a full-time trader has a lot of advantages and disadvantages and the reasons may vary for each trader. Be honest to yourself and ask the right questions. Also, you have to take into consideration your current financial situation, your trading skills, and your mental fortitude.
If you are currently experiencing any financial issues and you think that forex trading is your way out, we don't recommend you go on full-time yet. The amount of stress from trading and any personal issues that you are experiencing might affect your trading decisions and lead to bad trades.
Being a full-time trader is risky for you and your family especially if you will have to give up your steady paycheck that supports you at the moment. We recommend you assess yourself first and keep on honing your trading skills on the sides.
Forex trading is a serious business. It is not a get-quick-rich scheme. There are plenty of risks involved just as you would start a physical enterprise.
The best way to go is to practice trade or be a part-time trader for now as you slowly assess yourself and transition slowly to a full-time trader once you have developed your confidence in trading. Also take into consideration if you are ready financially, mentally and emotionally.
Don't forget to follow and subscribe for more updates about market trends, analysis, forex news, strategies and more!
Do you want to learn more about forex trading? Sign up now on our FREE forex webinar and reserve your FREE seats while it still lasts!
Risk Disclaimer:
Information on this page are solely for educational purposes only and is not in any way a recommendation to buy or sell certain assets. You should do your own thorough research before investing in any type of asset. Learn to Trade does not fully guarantee that this information is free from errors or misstatements. It also does not guarantee that the information is completely timely. Investing in the Foreign Exchange Market involves a great deal of risk which may result in the loss of a portion or your full investment. All risks, losses and costs associated with investing, including total loss of principal and emotional distress, are your responsibility.